-25%
Patriot 310
SKU:

Pt310
The Patriot series of boats is very light for its class. It weighs 40kg, which include the boat itself, an inflatable keel and the foldable floor. The keel makes the boat very manoeuvrable and stable when going at high speeds.
The foldable floor is made from 9 mm water resistant board and has an anti-slip surface.
For comfort, the boat and the foldable floor are packed in two separate bags.
Various accessories are mounted on this boat by default. Such accessories include two aluminium oars, a safety rope on the sides of the boat, a rear fender for the motor and a water release valve. Furthermore, there is one handle in the front and two more at the rear of the boat.
The boat comes with two seats that can be mounted anywhere in the boat within the region of the appropriate PVC strip.
The boat is made to carry 400kg, which implies 3 adults weight roughly 100kg per person and their luggage. However, when transporting around 400kg in the boat it is not possible to achieve the speeds that this boat is normally capable of. If you would like your Patriot to attain fast speeds, then we recommend loading the boat to a maximum of 200kg.
This boat is made for waters where wind speed is less than 10.8 m/s and the size of the waves is less than 2 meters (category C).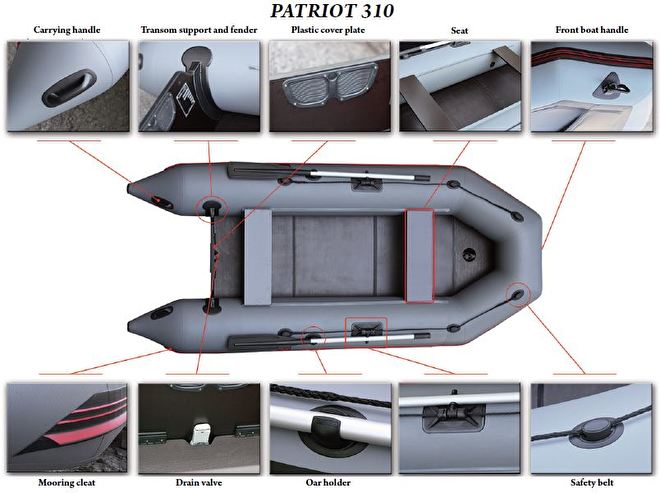 | Specification | Description |
| --- | --- |
| Boat model | Patriot 310 |
| Length (cm) | 310 |
| Width (cm) | 155 |
| Diameter of the floats (cm) | 38 |
| PVC thickness (g/m2) | 950 |
| Floor type | Boards |
| Length of the paddles (cm) | 150 |
| Number of air compartments | 3+1 (Keel) |
| Maximum number of passenges | 3 |
| Maximum loading capacity (kg) | 420 |
| Height of motor board (cm) | 38.1 |
| Maximum engine power (hp) | 9.8 |
| Maximum motor weight | 38 |
| Weight of the boat | 38 |
| Size of the carrying bag | 120 x 54 x 28 |
| Boat category | C |