Catamarans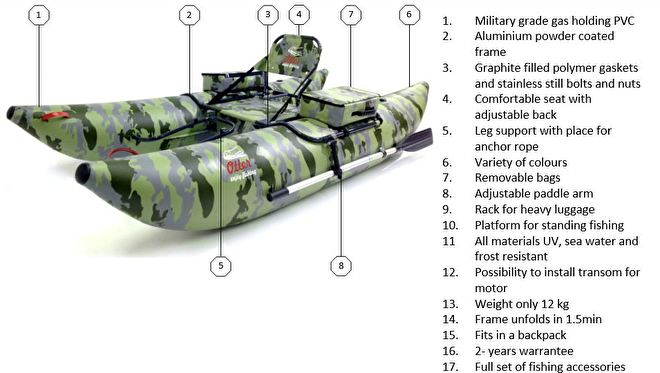 This catamaran is intended for hobby and sport fishing. It is very stable and allows for a comfortable seating position on the water for both active and passive fishing.
Otterboat offers high quality and robust fishing catamaran from PVC. We offer a 2 year replacement guarantee.
Otterboat offers a complete set of boat accessories to, such as: anchor holders, anchor locks, mooring cleats, a large variety of mounting platforms and mounting pipes. Visit our online store for more!
Technical characteristics
External dimensions: 2850 x 1350 mm
Carrying capacity: 125 kg
Weight: 14.4 kg
Materials used for the floats and seats: military grade gas tight fabric (PVC)
Materials used for the frame: construction grade aluminium
Bolts, nuts, stud bolts, rings: stainless steel A2
Gaskets: Graphite filled polyamide
Description
Light and easy to transport
No tools required to assemble
Comfortable adjustable seat and foot rest
Comes with a bag for convenient transportation
Comes with two bags for fishing accessories
Possibility to attach various fishing accessories and motor
Requires minimum storage place
Different colour combinations
Our current offers!
1. Otter Boat has a constant offer where the clients could recieve a 5% discount on the entire purchase if they buy €200 worth of Fasten boat accessoires.
2. From the 18/10/2018 to the 28/11/2018 you could get a discount at Otter Boat! We offer 10% discount on all the boats and catamarans. This discount can be coupled with the discount above (point 1)! Thereby you could get a total of 15% discount on your boat!
We deliver purchases from €200 for free within the Netherlands!
Shopping cart
No items in shopping cart.